The Lifestyle Destination
LIVESTRONG.COM is and Award winning* daily destination for millions of men and women seeking health, fitness, nutrition information. I led the strategy and oversaw product, design, ux and mobile teams to create what is now one of the most popular health and wellness lifestyle brands online.
* Webby Peoples Choice Award Winner of the International Academy of Digital Arts and Sciences 16th annual honors for excellence on the Internet.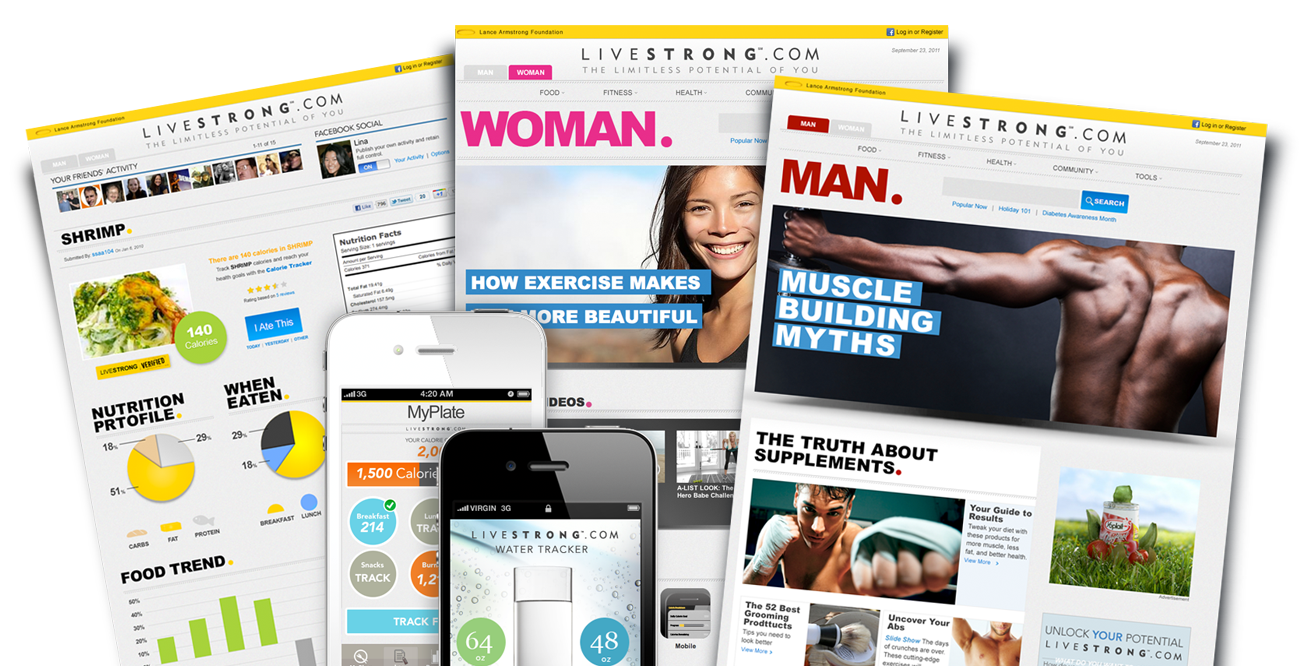 Content Strategy

Challenge
Sixty-five percent of traffic to LIVESTRONG.COM was female visitors and that the time spent on site was below industry averages.
Solution
Creating gender specific channels, features and content increased engagement among LIVESTRONG.COM's audience. Gender based content increased the amount of content, increased LIVESTRONG.COM's SEO reach and provided more opportunities to advertisers.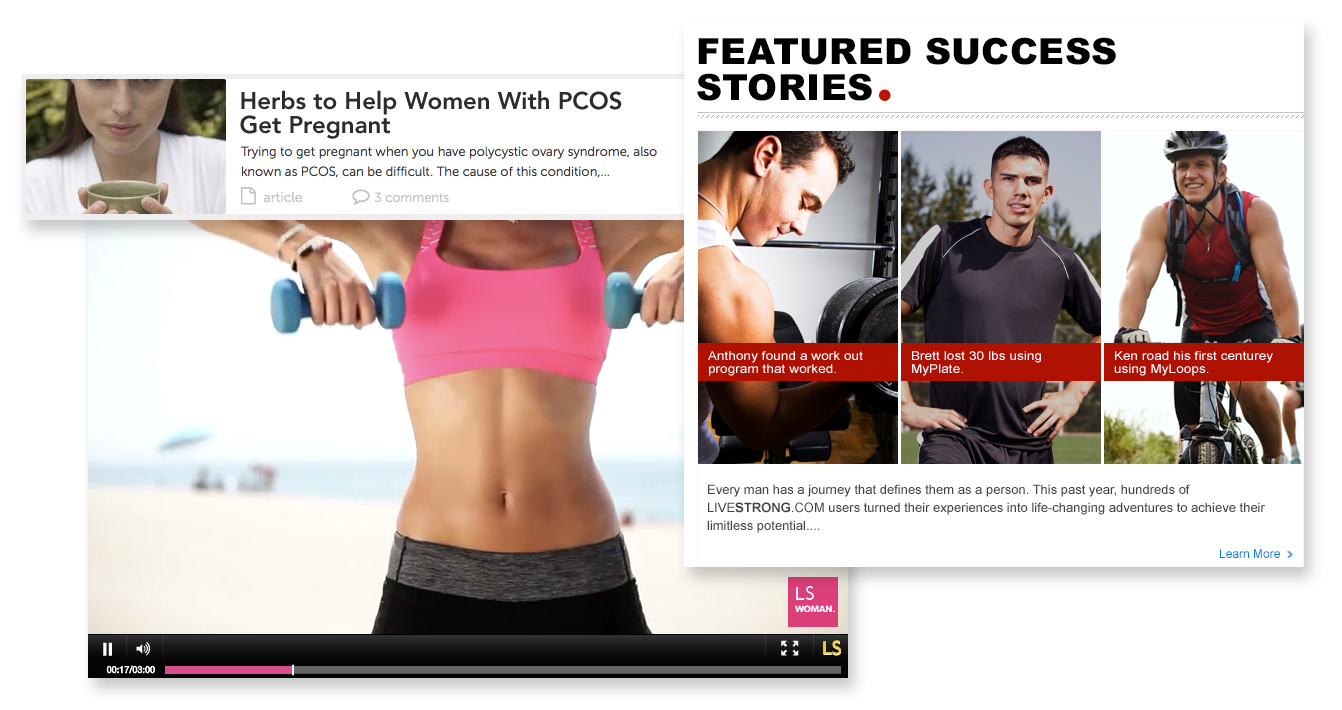 Feature Strategy
Challenge
LIVESTRONG.COM's vast library of content (more than 1 million articles and videos) attracted visitors, however there was no value in becoming a member of the site.
Solution
Create features that directly relate to the popular content. Features that goal oriented. Below are two of the more popular features on LIVESTRONG.COM.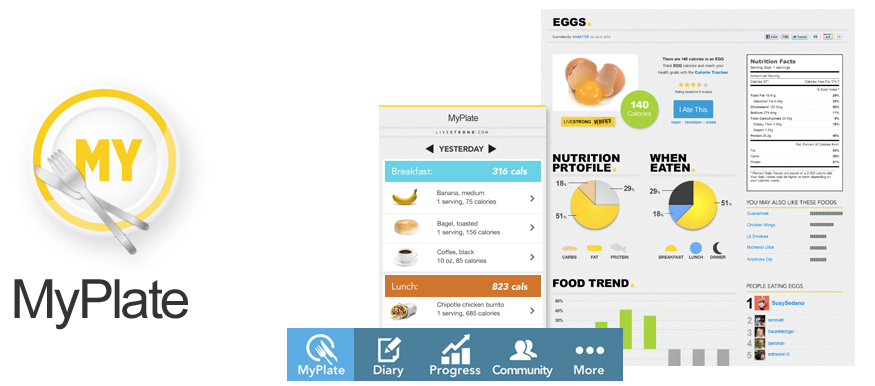 The food nutrition section was among the most popular on LIVESTRONG.COM. MyPlate is that feature interfaces with the database and encourages tracking of calories, sodium, fat and other dietary intakes. MyPlate tracks and provides real-time analytics to achieve individual users goals.

Exercise content was another popular section of LIVESTRONG.COM. MyLoops is a feature that allows users to create, explore and track running, walking and hiking routes. Distance, elevation, gender and age is used to calculate and track performance and metrics goals.
On The Go
Setting goals, tracking and analytical tools are the foundation of LIVESTRONG.COM's features. Making these features more accessible on the go and among a variety of devises was a natural and logical evolution.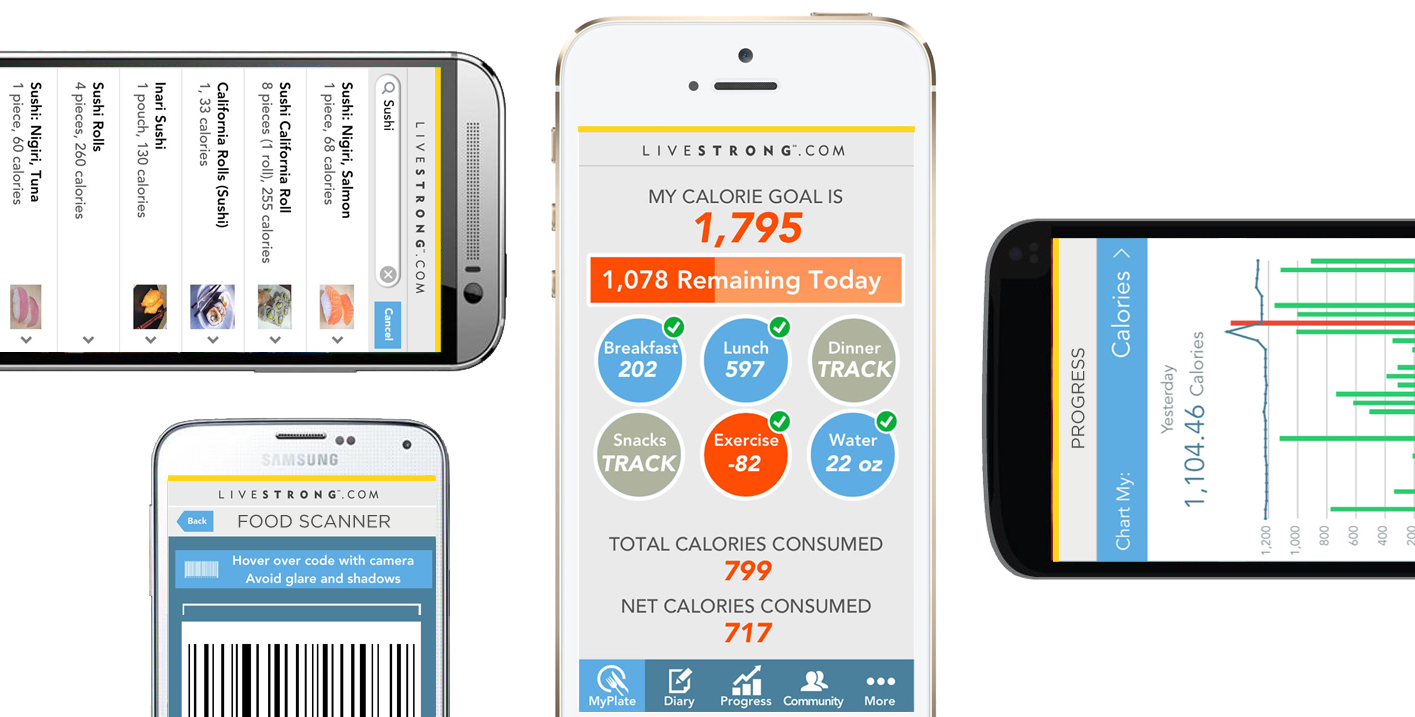 Support Network
The LIVESTRONG.COM community was created to provide a platform for users to learn, encourage, share and help each other achieve their goals. The community has access to features such as groups, contests, blogs and forums.